LATEST NEWS
Matjaz Zorko, who did his first three 9a's last year, has sent Malvazija (8c+) in Dvigrad, after projecting it for ten sessions. Maurizio "Manolo" Zanolla put it up in 1988 as an 8b+ and then in 2010, Cody Roth made the first repeat and suggested 8c+. It's been speculated that holds broke in the crux sometime after Manolo's ascent, plus a few holds broke on Roth during his time on the route. Last month Ale Zeni made the third ascent and confirmed the upgrade, which Zorko says he also agrees with.

Can you fill us in on your ascent?
Well, I spent a few sessions on it last season, just enough to do it with one fall. This year I managed to send it I think on one of the last days with cool temperatures. I think this style suits me quite well. In the first part, the route is vertical on small imaginative holds and footholds. In the second half, it gets slightly steeper and more physical on chipped pockets. I assume that there are 4 drilled pockets. They are quite deep but my fat fingers don't fit in as well as I would hope. Super happy about the send😊😊 It was nice sharing one session on the route with Zeni and I'm really happy about his send too😊.

What's coming up next for you?
I still have some old projects here in Slovenia to finish😊 and a short trip to Pecka, in Bosnia and Herzegovina.
Andi Stullhas been in Ticino for almost three weeks, sending three 8A's; Teamwork (8A), Pause cervelas (8A) and Forever More (8A), in the picture.


Can you tell us more about your trip?
I think 'Teamwork' was my favorite of the 8As I've done this trip! Sharp crimps and cool movement with a toe hook! 'Pause Cervelas' is so beautiful too, being that is it right on the river on beautiful rock! I had to find my own beta for that one, as the normal, more dynamic beta felt like too big of a span for me, so that was a fun process! The top out of forever more is a bit silly and simultaneously spooky! It's a true mantle, then some bad slopers and smeary feet. As a was mantling, my hand slid a little due to my skin being so dry, that was pretty scary, but luckily, I didn't fall! It's a bit unfortunate that there's graffiti on the next boulder over, as it's right by the river and such a beautiful scenery, otherwise!

This is my first time in Ticino, and I'm already planning another trip back! I didn't want to focus too much on one specific project this trip, as I wanted to get a taste of everything! I was initially planning on being here for 6 weeks, but I, unfortunately, will be cutting my trip short and leaving at the end of this week.

What is next when you are back home?
I would love to make it out to Bishop, but the Buttermilk road is inaccessible at the moment. So, I may either do the 3-mile hike to the boulders, or get straight back into training mode and prepare for next season! I may come back to Swiss in October. If that's the case, I will be training hard for that!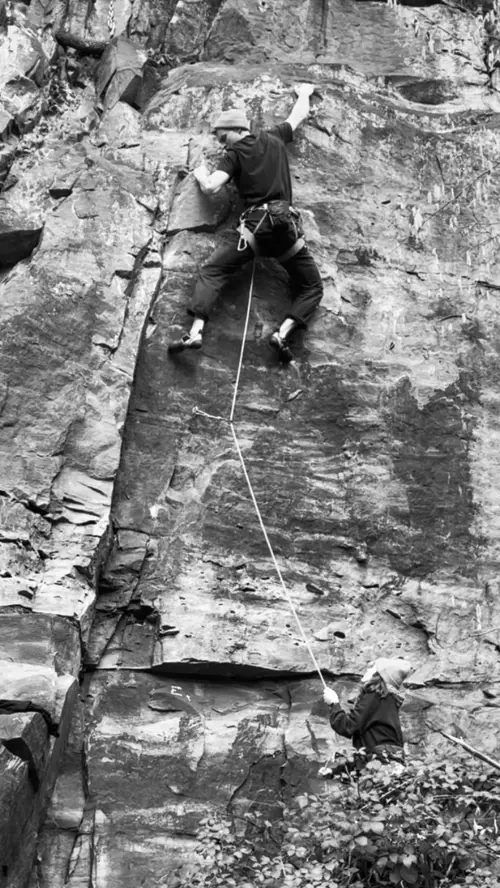 EDITORIAL
by Jens Larssen, Editor-in-Chief
Solveig Korherr, who over the last six weeks, has done several 8A boulders and an 8c route, has been on a trad trip to Cadarese, where she sent two 8a's and ons…
Radek Votocek did five 8c+ graded routes last year and Rock Erotic (8c+) in Geyik bayiri was his hardest, as it's officially (8c+/9a). Lukáš Černý has put together the video and says, "I had the pleasure to film with Radek during my Christmas trip, and I was able to record some more of his new entr…
EDITORIAL
by Jens Larssen, Editor-in-Chief
---
---
---
---
---
---
---
---
---
---
---
---