LATEST NEWS
Victor Guillermin, who this spring got the bronze in a Euro Youth Cup, has done Moksha (9a) in Pic St Loup. The 17-year-old needed four sessions to take the 50m line down.

What is your next plan?
I don't really know what will be my next plans but I think I'll start to work on the big sister of Moksha: Beyond, Seb Bouin's king line, an incredible 9a+... a real dream line!

How long is the hike to the crag?
It takes approximately 1hours 15minutes ... but the hike is very steep, steeper than in Ceuse😅.
Sebastien Bouin reports on Insta that he has done Change (9b+) in Flatanger. (c) Marco Müller

Adam Ondra established the 55m route in 2012 as the first 9b+ in the world. Stefano Ghisolfi did the first repeat and as Seb said in his Insta, they both used knee pads which not Ondra did.

The French climber's ticklist for his one month trip to Flatanger is setting a new standard. 9b+, 9b/+ and three 9a+. Seb has yet to give a grade for Change.

" After sending pitch 1 and pitch 2 independently, my goal was for sure trying the entire route. The only problem was I only had four more days, before my departure to come back home. I didn't know if it would be enough for the entire route. My body started to feel crushed by this cave. I felt tired from the trip. But I wanted to play the game until the very end.

Day 1, the conditions were terrible. It was humid and wet. A lot of the key holds were wet. I decided to not climb and wait for the next day. Day 2, it was still humid, and key holds were a bit dryer, but the humidity didn't give me confidence. I decided to try the route anyway. It was difficult to wait much longer, knowing I had to leave soon. I passed the first pitch, rested a lot before pitch 2. Then passed the first traverse crux on Pitch 2, and fell straight after that on the second crux. The holds were really humid and almost wet.

Day 3, I still felt really tired from my attempt on the previous day, and I didn't sleep well during the night. I wasn't planning to climb – I wanted to wait until I felt ready. I went up to the cave to check out conditions and belay my girlfriend on her route. The conditions were exceptional! I was torn in my mind. Should I try it and take advantage of the conditions? or should I wait until I knew I was fully recovered? I finally decided to try the route. I was literaly flowing through the holds, due to the good conditions. It was so much different than the day before. I am happy to say that I made no mistakes and felt the belief that I could make it to the end, and I did! I am not usually a 'last day, last try' kind of guy, but this time it happened 🙂 I climbed the route with kneepads, like previous ascensionist Stefano Ghisolfi."
EDITORIAL
by 8a Founder and Editor-in-Chief Jens Larssen including also Analyses, Reviews, Training, Polls and Opinions etc.
---
TOP IMAGES OF THE WEEK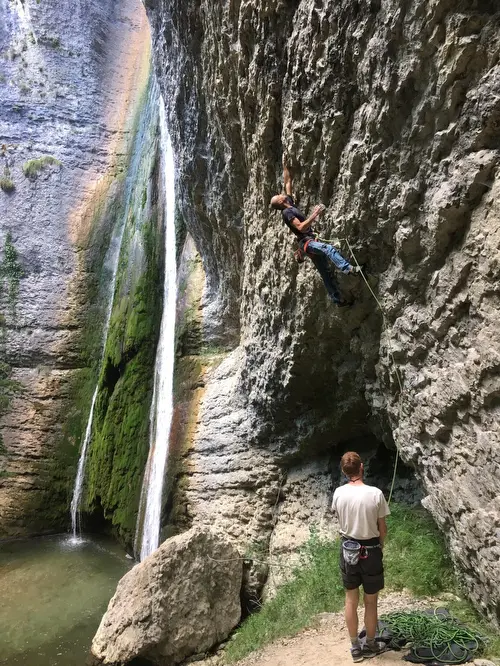 EDITORIAL
by 8a Founder and Editor-in-Chief Jens Larssen including also Analyses, Reviews, Training, Polls and Opinions etc.
---
---
---
---
---
---
---
---
---
---
---
---
---