King Capella 9b? (+) by Alex Megos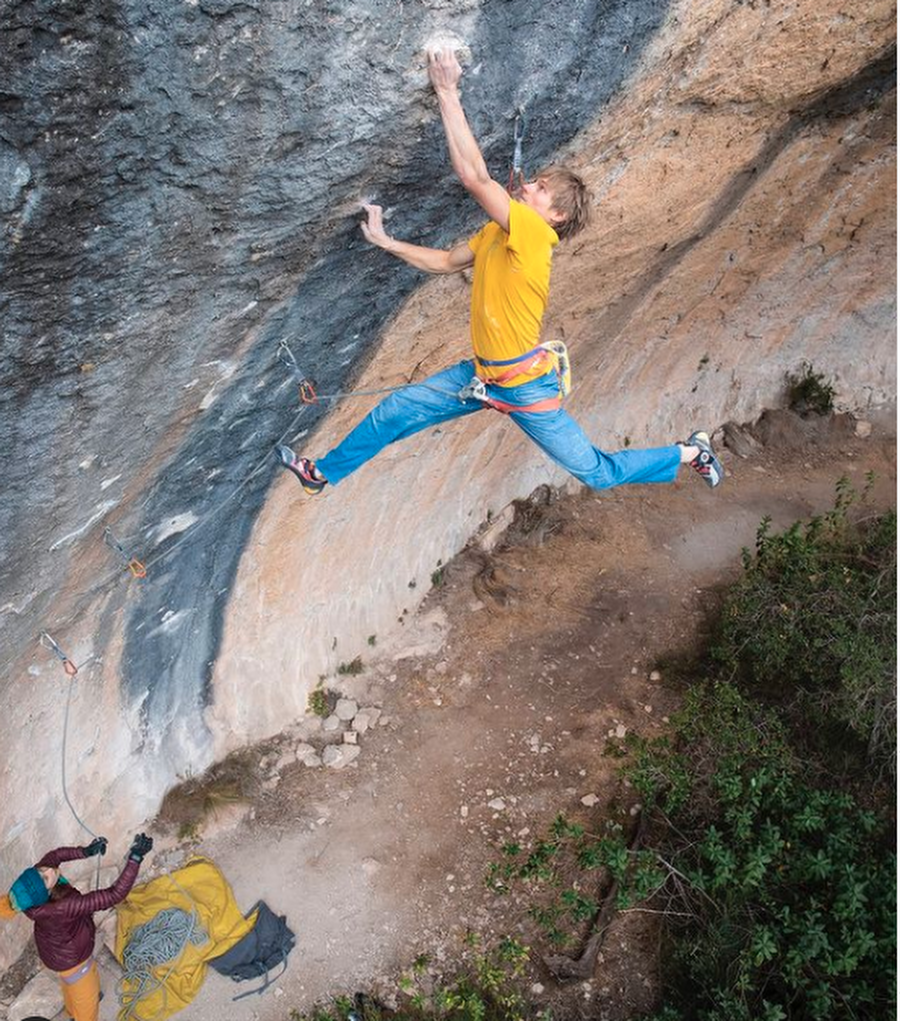 Alex Megos reports on
Insta
that he after some ten days of projecting has done the first repeat of Will Bosi's
King Capella (9b+)
in
Siurana
. The German do neither confirm or suggest a grade but he says, "
I also used slightly different beta than Will taking a very wide pinch, which felt a little easier to me than what Will did. He couldn't do the move the way I did it though, so I guess it's personal preference."
(c)
Esteban Lahoz
Analyzing what grade Alex might opt for, we have his comments from this spring when he tried it for the first time. "
I tried two of his FA's there and they are hard! Both of them 9b for sure. The one he thought was easier I couldn't do one move. On "King Capella" I did all the moves, but linking then will be very hard. I'd be super psyched to go and try to repeat his routes at some point! 😁 Very strong lad 💪🏼."
Furthermore, putting ten days in a fictive Time Comparison Grading table for Alex, 9b would probably fit better rather than 9b+, although he has said the route fits him rather well. "
The grade time comparison doesn't work as well though because the route is so short. It's much easier to try a short route multiple times a day than a long one."
In total, Megos has now done 100+ routes 8c+/9a and harder, out of which five are 9b or 9b+.
MOST COMMENTED
Connor Herson made his first 8a headline in 2018 when he did an 8c+, 2nd go at age 14. In the same year he repeated The Nose 8b+ MP; and was #11 in the Youth Wo…
Noah Wheeler has done Delirium (8C) at Mt Evans. The 20-year-old started bouldering outdoors only in 2020 as until then focused on competition. "After doing W…
Cathy Wagner has done Ces démons niaquent (8a+) in Précipice de Corbière, giving it a personal 8a grade. "HAPPY! Outstanding route, where many technical kneebars around single tufa allowed me to compensate for my lack of the physical strength. But even with that, it was not at all given, especially …
RELATED
Olympic Bronze Medallist Jakob Schubert reports on Insta that he has done the third ascent of Will Bosi's King Capella (9b+) in Siurana giving it a personal 9b …
Eva Hammelmüller has onsighted Zona 0 (8b) and Sexo sentido (8b) in Siurana. This was the 21-year-old's first two 8b onsights and including also four 8a+ and some 8a onsights, she is #2 in the female onsight ranking game. "It was way too hot to climb in the sun, and also in the shade it was very war…
Marco Zanone, who just did his first 9a+, has done Estado critico (9a) and Llamps i trons (8c+) in Siurana. (c) Esteban Lahoz "Estado Critico is a well-known r…
RELATED NEWS
Olympic Bronze Medallist Jakob Schubert reports on Insta that he has done the third ascent of Will Bosi's King Capella (9b+) in Siurana giving it a personal 9b …
Eva Hammelmüller has onsighted Zona 0 (8b) and Sexo sentido (8b) in Siurana. This was the 21-year-old's first two 8b onsights and including also four 8a+ and some 8a onsights, she is #2 in the female onsight ranking game. "It was way too hot to climb in the sun, and also in the shade it was very war…
Marco Zanone, who just did his first 9a+, has done Estado critico (9a) and Llamps i trons (8c+) in Siurana. (c) Esteban Lahoz "Estado Critico is a well-known r…
FAVORITES
Claudia Ghisolfi, who was #9 in the Edinburgh WC two weeks ago, has done TCT (9a) at Gravere. The name of the route is a tribute to Tito Claudio Traversa, who d…
Stefano Ghisolfi has made the first repeat of Adam Ondra's Move Hard (9b) in Flatanger. It starts as Move and continues into the second crux of Silence (9c) whi…
Jakob Bizjak has repeated Domen Skofic's five star line Umetnost (9a) in Ter. "Such cool moves on this amazing line! I am also really happy to do it on that day…