Foundations Edge 8C by Daniel Woods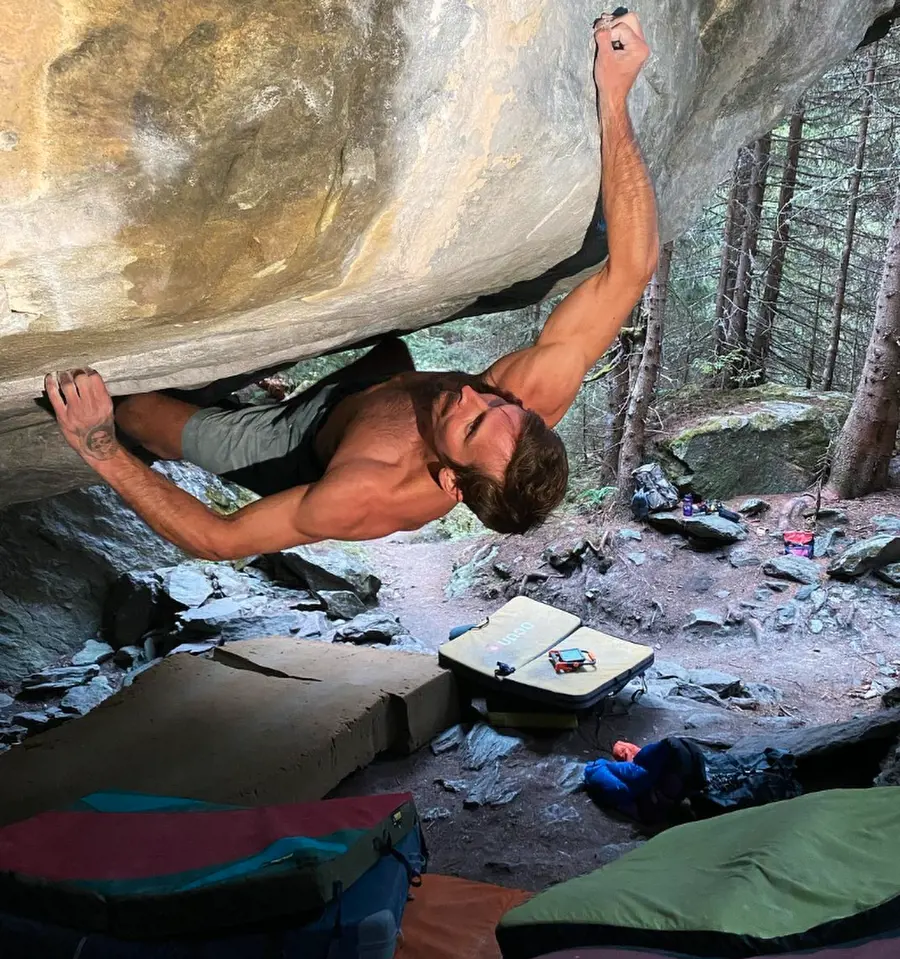 Daniel Woods
has repeated Dave Graham's
Foundations Edge (8C)
and
Scarred for Life (8B+)
in
Fionnay
. More pictures on his
Insta
.
The 33-year-old has been on the cutting edge since age 15 when he did his first 8c+ route and first 8B+ boulder. Starting in 2005, he won the American Nationals ten years in a row and he has also won one World Cup. In total, he has done 40+ 8Cs and harder, including the FA of
Return of the Sleepwalker (9A)
.
"
I tried Foundations Edge a couple of times in May and a few more times in the past but it was always wet. This time it was bone dry and went the first day. The next day hooked up Scarred for Life (8B+). Both these blocs are world-class and it was an awesome experience getting to climb them. I am here for two more weeks. Next, I'll try Fuck the System 8C+ and I also want to try the low start project into Permanent Midnight (8A+) or Solitary daze (8C). The low adds is around 8B+ into the 8A+ or 8C."
MOST COMMENTED
Lena Marie Müller is currently doing a PhD at the University of Innsbruck about the effects of climate change on mountain ecosystems. In 2020, she became the fi…
Sebastien BOUIN, who previously has done three 9b/+, reports on Insta that he has done the FA of DNA 9c in Verdon. "I'm happy to have completed this project. Af…
Alexej Pinchuk has presented statistics of all 9a+ to 9c ascents. A total of 26 climbers from the US have done a 9a+, which can be compared with 21 from Spain a…
RELATED
Simone Tentori has done Dave Graham's Foundations Edge (8C) in Fionnay. "I'm just so happy to have climbed one of my lifetime dream boulders. It's my second 8C …
Simone Tentori has done the second ascent of Clement Lechaptois' Solitary daze (8C) in Fionnay, which is a direct exit to Permanent Midnight (8A+). (c) Sierra F…
David Graham reports on Insta has done the first repeat of Shawn Raboutou's F*ck the System 8C+ in Fionnay, which is a direct start to Foundations Edge (8C) es…
RELATED NEWS
Simone Tentori has done Dave Graham's Foundations Edge (8C) in Fionnay. "I'm just so happy to have climbed one of my lifetime dream boulders. It's my second 8C …
Simone Tentori has done the second ascent of Clement Lechaptois' Solitary daze (8C) in Fionnay, which is a direct exit to Permanent Midnight (8A+). (c) Sierra F…
David Graham reports on Insta has done the first repeat of Shawn Raboutou's F*ck the System 8C+ in Fionnay, which is a direct start to Foundations Edge (8C) es…
FAVORITES
Sebastien BOUIN, who previously has done three 9b/+, reports on Insta that he has done the FA of DNA 9c in Verdon. "I'm happy to have completed this project. Af…
Sebastien BOUIN has done the FA of the long-standing project Jumbo Love (9b) direct start, calling it Suprême Jumbo Love 9b+ at Clark Mountain. (c) Clarisse Bom…
Marcel Remy was born in 1923 and has been climbing actively during the last 90 years. He celebrated his 99th birthday by climbing in his local gym in Villeneuve…