Change 9b+ by Seb Bouin - updated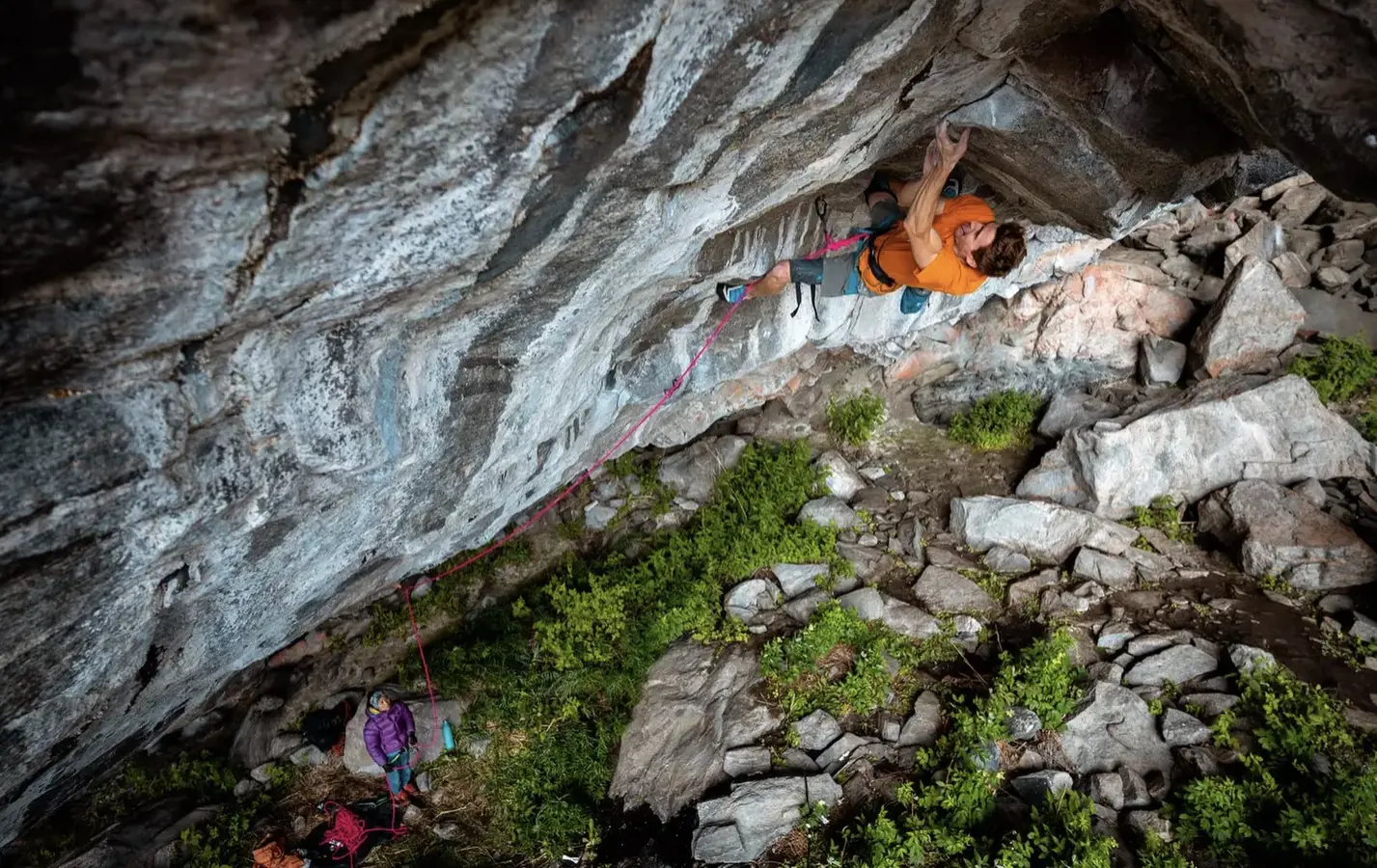 Sebastien Bouin
reports on
Insta
that he has done
Change (9b+)
in
Flatanger
. (c)
Marco Müller
Adam Ondra
established the 55m route in 2012 as the first 9b+ in the world.
Stefano Ghisolfi
did the first repeat and as Seb said in his Insta, they both used knee pads which not Ondra did.
The French climber's ticklist for his one month trip to Flatanger is setting a new standard. 9b+, 9b/+ and three 9a+. Seb has yet to give a grade for Change.
"
After sending pitch 1 and pitch 2 independently, my goal was for sure trying the entire route. The only problem was I only had four more days, before my departure to come back home. I didn't know if it would be enough for the entire route. My body started to feel crushed by this cave. I felt tired from the trip. But I wanted to play the game until the very end.

Day 1, the conditions were terrible. It was humid and wet. A lot of the key holds were wet. I decided to not climb and wait for the next day. Day 2, it was still humid, and key holds were a bit dryer, but the humidity didn't give me confidence. I decided to try the route anyway. It was difficult to wait much longer, knowing I had to leave soon. I passed the first pitch, rested a lot before pitch 2. Then passed the first traverse crux on Pitch 2, and fell straight after that on the second crux. The holds were really humid and almost wet.

Day 3, I still felt really tired from my attempt on the previous day, and I didn't sleep well during the night. I wasn't planning to climb – I wanted to wait until I felt ready. I went up to the cave to check out conditions and belay my girlfriend on her route. The conditions were exceptional! I was torn in my mind. Should I try it and take advantage of the conditions? or should I wait until I knew I was fully recovered? I finally decided to try the route. I was literaly flowing through the holds, due to the good conditions. It was so much different than the day before. I am happy to say that I made no mistakes and felt the belief that I could make it to the end, and I did! I am not usually a 'last day, last try' kind of guy, but this time it happened 🙂 I climbed the route with kneepads, like previous ascensionist Stefano Ghisolfi."
MOST COMMENTED
Sebastien BOUIN, who previously has done three 9b/+, reports on Insta that he has done the FA of DNA 9c in Verdon. "I'm happy to have completed this project. Af…
EDITORIAL
5 December 2022
In a 40 min interview at the IFSC Climbing Summit, Janja Garnbret was very straightforward about BMI testing. She referred to a survey in Innsbruck where it later was stated that: 16 % of female athletes have no menstruation and 22 % reported that they currently struggle with an eating disorder. …
Illya Bakhmet-Smolenskyi has done Open your mind (8c+) in Santa Linya. The Ukrainian made his first 8a news at age eleven when he did his first three 8c's as we…
RELATED
Sebastien BOUIN, who in the last week has done one 9a+ and one 9a+ (b) in Flatanger, has sent Change P1 (9a+). Adam Ondra did the FA ten years ago and it is the…
Sebastein Bouin reports on Insta that he has done Change P2 9a in Flatanger. He explains that Adam Ondra's Change (9b+) can be divided into two pitches, 9a+ and…
Sebastien Bouin has the last month done four routes 9a+ or harder in Flatanger, including the 130m long Nordic Marathon and Adam Ondra's Change (9b+) from 2012…
RELATED NEWS
Sebastien BOUIN, who in the last week has done one 9a+ and one 9a+ (b) in Flatanger, has sent Change P1 (9a+). Adam Ondra did the FA ten years ago and it is the…
Sebastein Bouin reports on Insta that he has done Change P2 9a in Flatanger. He explains that Adam Ondra's Change (9b+) can be divided into two pitches, 9a+ and…
Sebastien Bouin has the last month done four routes 9a+ or harder in Flatanger, including the 130m long Nordic Marathon and Adam Ondra's Change (9b+) from 2012…
FAVORITES
Sebastien BOUIN, who previously has done three 9b/+, reports on Insta that he has done the FA of DNA 9c in Verdon. "I'm happy to have completed this project. Af…
Stefano Ghisolfi has done the FA of Excalibur (9b+) in Arco. It was bolted by Christian Dorigatti and Morris Fontanari who invited Stefano to try it two years a…
Sebastien BOUIN has done the FA of the long-standing project Jumbo Love (9b) direct start, calling it Suprême Jumbo Love 9b+ at Clark Mountain. (c) Clarisse Bom…