LATEST NEWS
Orrin Coley, who over the last six years has sent nine 8B+ graded boulders, has done the FA of Ultra Instinct (8C) in Forest rock. "3 years of effort over in 26 seconds."

Can you tell us more about those 3 years and 26 seconds?
So in early 2019 I started working on a project which after 14 sessions became Limit Breaker (8B+). I was fairly confident at the time it was the hardest I'd done and took me significantly more amount of effort than any other 8B+'s I'd done.

The following year, I wanted a new project to sink into and started trying a lower start into Limit Breaker. The original start was flawed in that it was very vague and high up, but at the time I couldn't conceive a way of doing it from any lower so just settled for that. This new start is significantly better and supersedes the original in my eyes as it begins on two undercuts at chest height and creates a way more full problem by adding a 2/3 move 8A sequence into the original 8B+.

The crag is only 20 minutes from my home, so it's easy for me to get to and work at a moments notice. It suffers from fickle conditions being heavily affected by rapid temperature changes and seepage, so being so local makes it easier to manage those barriers. Then obviously the pandemic hit, no one wants to hear that story again but long story short, once I got out of the house I got back to it! I had one magic go that same year where I dropped the finishing hold, but it was more fluke than deserved, just a magic try. It took about a year to match that high point again and not for a lack of trying, as by that point I'd easily had over 40 sessions.

At that point it had well and truly got to my head, it became a painful psychological battle which I lost every time and only made it harder to deal with until eventually I hated being there under it trying the moves and just wanted to be as far away from it as possible. I kept trying to get into it in 2022, but it was too much to deal with so I eventually just walked away. I wasn't going to try it again until I actually knew I wanted to. That then lead to this year, I found a spark and decided to follow it. I had my first session, loved every minute, learnt lots and rekindled the psych. Then just over a week later, I was back trying again and soon enough there I was - at the end.

What about adding a sit start to it?
I think a sit start would be possible, but I'm not sure if I'm motivated for it, at least not now. It wouldn't add much quality, just a short 8A+/B sequence into what's now Ultra Instinct. I think I'm more motivated to get out, enjoy climbing different things and just have some more fulfilling experiences again, this took a toll and I'm not sure I'm ready to go through that again just now.
Juliet Hammer, who has already done seven 8As and one 8A+, has done Lethal Design (8A+) in Red Rock (NV).

Can you tell us more about your ascent?
I was excited to try Lethal because I had seen lots of pictures and videos of it and knew it was my style. I did two sessions on it in December last year then was able to come back on this trip and put it together.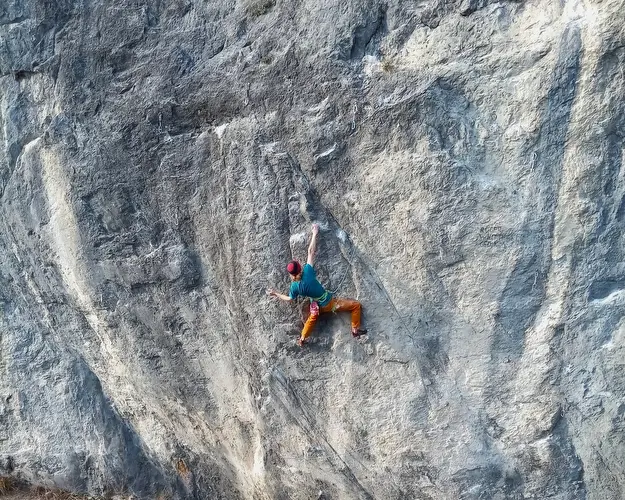 EDITORIAL
by Jens Larssen, Editor-in-Chief
Adam Ondra onsighted Water world (9a) in Osp/Misja Pec, last November."Yees, very proud to onsight it. Possibly not the hardest 9a especially with kneepads, but not a very obvious one to onsight. Super happy."
EDITORIAL
by Jens Larssen, Editor-in-Chief
---
---
---
---
---
---
---
---
---
---
---
---