Resisting Arrest 9a FA by Kinder (42) and C Hörst (21)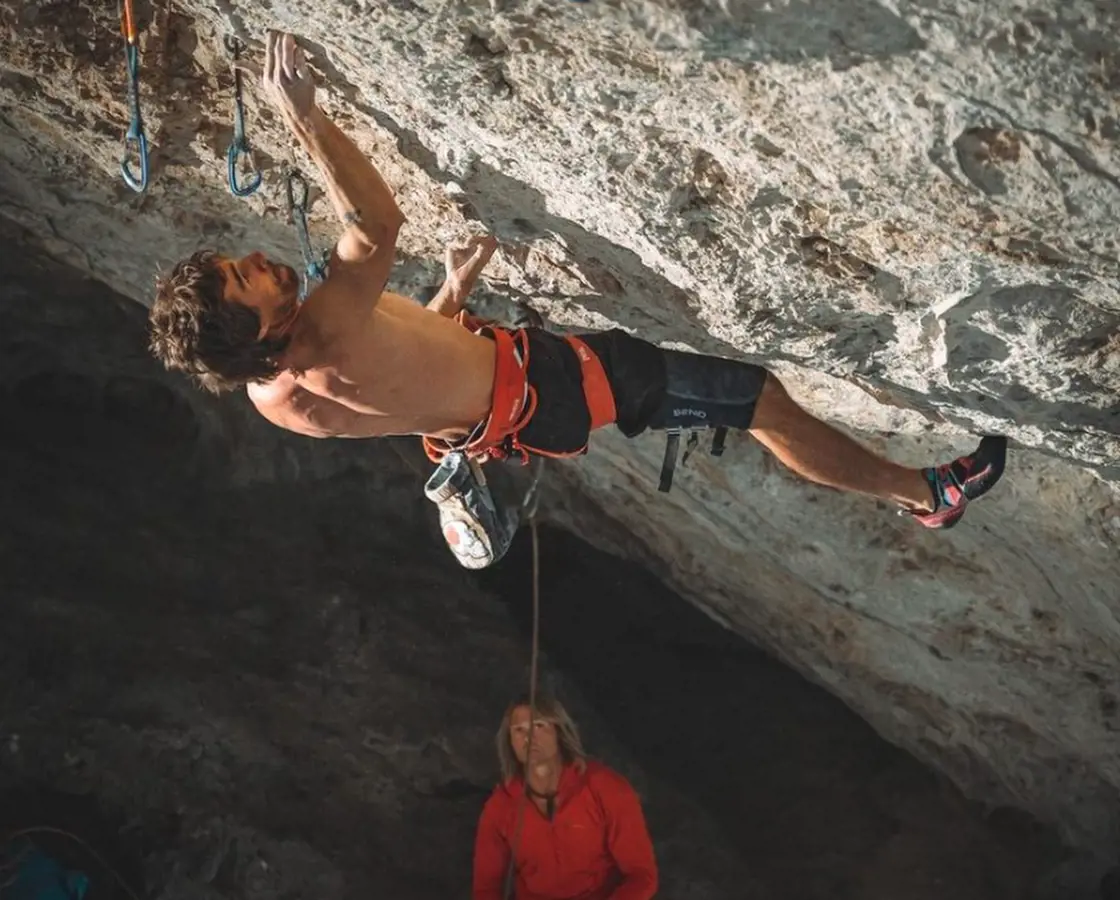 Joel Kinder
has done the FA of
Resisting Arrest (9a)
in
Robbers Roost
which
Cameron Hörst
repeated ten minutes later. Andy Raether bolted it in 2010 and then Joel took it over 2019. One month ago he invited some friends to try it out and in the beginning they thought it might be 9a+ (c)
JP Melville
"
I started trying it and realized that this was not specifically my story. Normally with the first ascents and routes, I put up I like to see them through on my own and finish the story. But this climb was different as Andy had bolted it. I had prepped it and it was more or less at a very approachable spot which made it a great opportunity to include everybody that was interested in trying the thing. And the word spread fast as the route is such high quality. There were a few of us grouped up sharing beta and sessioning together. It's like when you go bouldering and you're all climbing on the same thing together and there's such high energy. I feel like with sport climbing and especially first ascents you don't get that vibe much.

Cam and I are both ultra-focused and we feed off of each other. I've climbed a lot with Cam in the past year. He is seriously one of my favourite people to climb with. He's young and strong as f-ck and I learn a ton from him. But he also learns from me because I'm an old guy with all of the experience. Ha ha, it's so classic.

I'm really grateful to be able to put as much time into my Climbing as I have been able to. I'm older now but what's weird is I'm climbing better than I ever have in my entire life. And I am sitting here with a giant question mark over my head as to why? All I know dude is that I'm having a good time, I love climbing and I don't have to answer to anyone (except my wife hehe). That feels f-cking good."
MOST COMMENTED
Matt Fultz, who previously has done four 8C+, has done the FA of Brace for the Cure (8C+) in Green 45. It starts in Jade (8B+) and then continues on small crimp…
Janja Garnbret, who has not competed since she won the Boulder WC in Meiringen in April, won in Innsbruck showing her superiority. Reaching hold 27, she rested …
Shinichiro Nomura did the FA of Gakido (8C+)in Chigobutai, three months ago. "Finally i sent the old project, known as one of the biggest japanese routes. In addition to bad holdings, i struggle with the worst positioning that i've never felt, compared with some over V15 projects. However i managed …
RELATED
Owen Whaley has done his second 9a, Dad Bod in Robbers Roost. "Psyched on this one! Good knee bar down low makes it slightly easier. Top was exiting when a hold…
NUMBERS
27 September 2008
The 7th Annual HERA Women's Cancer Foundation Climb4Life hosted by Utah-based Black Diamond was held September 18-21, 2008 in Salt Lake City. The event, part o…
Joey Kinder has put up Southern Smoke, 8c+ in Red River Gorge. Joey has been a great climber for quite a few years now, but this year, he's really picked up his game considerably non the less. What do you say about two 9a's and five 8c+'s. He is now #8 in the world ranking.//BP
RELATED NEWS
Owen Whaley has done his second 9a, Dad Bod in Robbers Roost. "Psyched on this one! Good knee bar down low makes it slightly easier. Top was exiting when a hold…
NUMBERS
27 September 2008
The 7th Annual HERA Women's Cancer Foundation Climb4Life hosted by Utah-based Black Diamond was held September 18-21, 2008 in Salt Lake City. The event, part o…
Joey Kinder has put up Southern Smoke, 8c+ in Red River Gorge. Joey has been a great climber for quite a few years now, but this year, he's really picked up his game considerably non the less. What do you say about two 9a's and five 8c+'s. He is now #8 in the world ranking.//BP
FAVORITES
This is an opportunity to combine your passion for climbing with your professional expertise. You'll get to design interfaces that tens of thousands of people r…
Luisa "Lulu" Deubzer has done Speed Integral (9a) in Voralpsee. The 28-year-old was one of the very best Lead competition climbers in the world at age 15. Two y…
Jordana Agapito has done Bonito por natureza (8A+) in Eco vila. Full video on her Insta. This was her second 8A+ and the first female ascent. The 33-year-old di…