Monkey Wedding 8C by Clément Lechaptois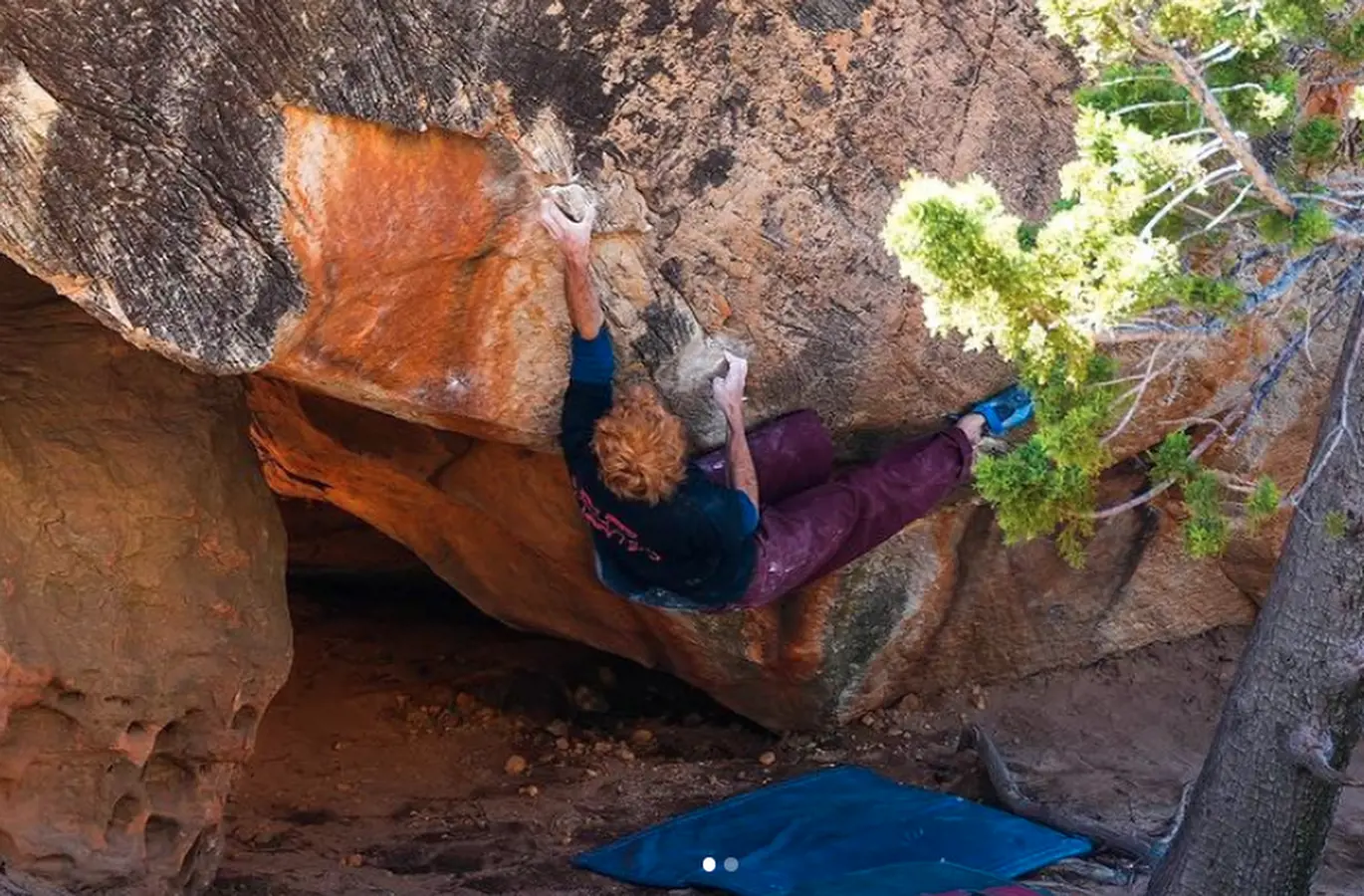 Clément Lechaptois
, who previously has done five 8C's, has done
Monkey Wedding (8C)
in
Rocklands
. "
I tried Monkey Wedding back in 2021 and was close to sending but unfortunately I wasn't able to finish the job. This year it went quite fast on the second day trying the boulder. Good friends were there, I was chill, so that has been a good time. Thanks Fred Nicole for another great classic!
(c)
Marine Thevenet
What are your autumn plans?
Climbing around home in Valais and Chamonix. Then probably a bit of Ticino :)
Any specific projects?
Maybe Fuck the System. I've already invested quite some time in it so it would be amazing to try to finish it off. Otherwise I don't know yet
MOST COMMENTED
EDITORIAL
5 December 2022
In a 40 min interview at the IFSC Climbing Summit, Janja Garnbret was very straightforward about BMI testing. She referred to a survey in Innsbruck where it later was stated that: 16 % of female athletes have no menstruation and 22 % reported that they currently struggle with an eating disorder. …
Illya Bakhmet-Smolenskyi has done Open your mind (8c+) in Santa Linya. The Ukrainian made his first 8a news at age eleven when he did his first three 8c's as we…
EDITORIAL
21 January 2023
During the last few years, we have seen plenty of advancement when it comes to redpointing ability globally. In just the last three years, we saw close to 150 9a+ ascents which can be compared to only ten 9a+ ascents per year, last decade. Ten years ago, Alex Megos onsighted Estado critico (9a) but…
RELATED
Stefan Scarperi has, in just four sessions, done Monkey Wedding (8C) in Rocklands. Fred Nicole put it up in 2002 as an 8B+ but later it has been upgraded and co…
Paul Robinson has done the third ascent of Legacy (9a) in Rocklands. It was found and tried by Dave Graham as a scary highball. Later Fred Nicole bolted it and …
Natalie Bärtschi has been on a four week trip to Rocklands ticking almost 30 boulders where the highlights grade-wise were Mintberry Crunch (8A) and Cinquiéme s…
RELATED NEWS
Stefan Scarperi has, in just four sessions, done Monkey Wedding (8C) in Rocklands. Fred Nicole put it up in 2002 as an 8B+ but later it has been upgraded and co…
Paul Robinson has done the third ascent of Legacy (9a) in Rocklands. It was found and tried by Dave Graham as a scary highball. Later Fred Nicole bolted it and …
Natalie Bärtschi has been on a four week trip to Rocklands ticking almost 30 boulders where the highlights grade-wise were Mintberry Crunch (8A) and Cinquiéme s…
FAVORITES
William Bosi has done the coveted second ascent of Nalle Hukkataival's Burden of Dreams (9A) in Lappnor, Finland, confirming the 9A grade. It was put up as the …
Chris Sharma strikes again by doing the FA of Sleeping Lion 9b+ in Siurana, after projecting it for one and a half years years at age 41. The route is located o…
Stefano Ghisolfi has done the FA of Excalibur (9b+) in Arco. It was bolted by Christian Dorigatti and Morris Fontanari who invited Stefano to try it two years a…