La Rambla 9a+ by Chaehyun Seo (19)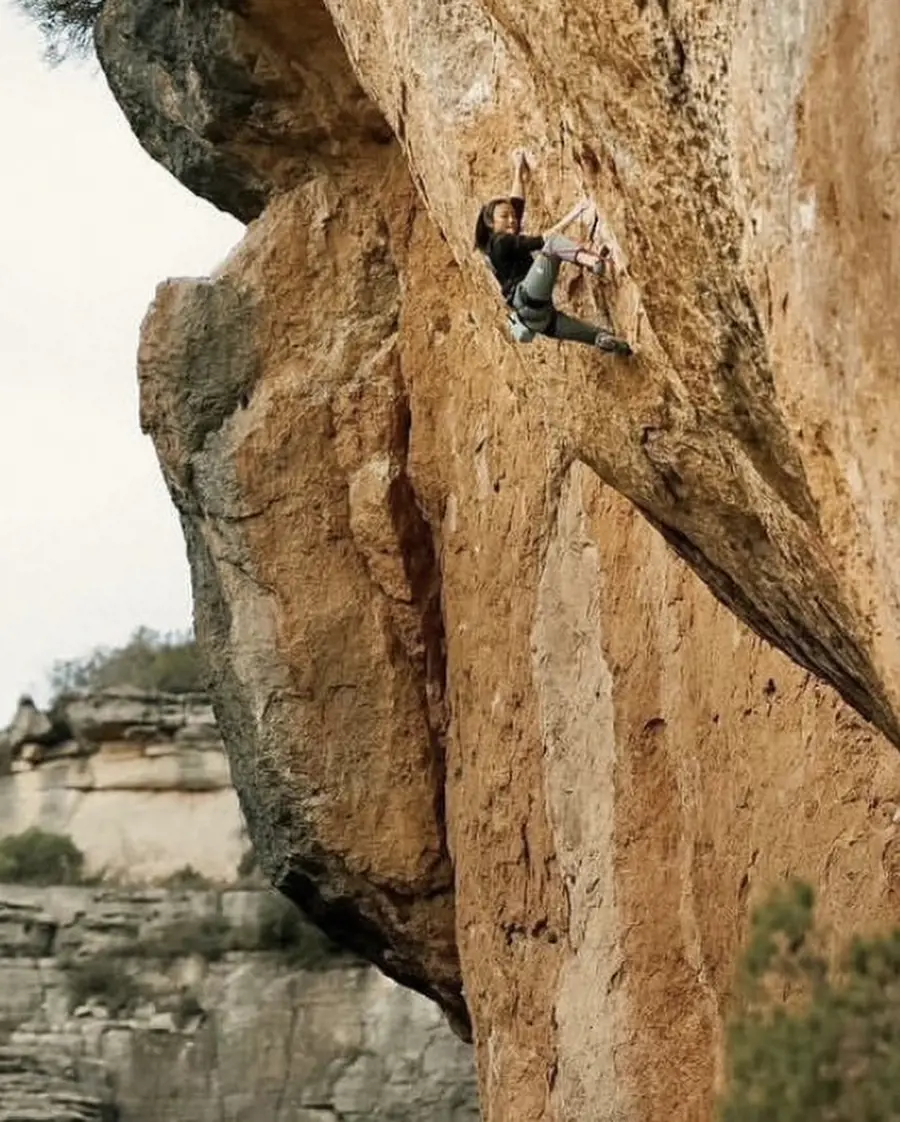 Chaehyeon Seo
has done the second female ascent, after
Margo Hayes
, of
La Rambla (9a+)
in
Siurana
. (c)
Bernardo Gimenez
How many sessions did it take and what was hardest for you?
I did it in 5 days and the hardest was the last cruxy part.
How long will you stay and what is next?
I'll stay here by 11/28 and I want to try
Realization (9a+)
(
Biographie
) in
Céüse
!
Seo made her first 8a headline at age 11, when she onsighted her first 8a. Three years later she did
Bad Girls Club 8c+/9a
. 15-years-old, she won the overall World Cup after having won four straight WCs. In 2021, she won the World championship and this year she was second in the World Cup.
MOST COMMENTED
Lena Marie Müller is currently doing a PhD at the University of Innsbruck about the effects of climate change on mountain ecosystems. In 2020, she became the fi…
Sebastien BOUIN, who previously has done three 9b/+, reports on Insta that he has done the FA of DNA 9c in Verdon. "I'm happy to have completed this project. Af…
Alexej Pinchuk has presented statistics of all 9a+ to 9c ascents. A total of 26 climbers from the US have done a 9a+, which can be compared with 21 from Spain a…
RELATED
Chaehyeon Seo, who just did La Rambla (9a+), has done two impressive onsights in a day in Montsant. First, she onsighted Hidrofobia L1+L2 (8b) after being up th…
Tanguy Merard, who did La moustache qui fâche (9a+) in July, has done the second ascent of Redoublement d'effort (9a) in La Roche-de-Rame. In June, the 18-year-…
Solveig Korherr has had a great trip to Céüse where she onsighted Le chirurgien du crépuscule (8b). "Wow! I'm really surprised and proud of this accomplishment.…
RELATED NEWS
Chaehyeon Seo, who just did La Rambla (9a+), has done two impressive onsights in a day in Montsant. First, she onsighted Hidrofobia L1+L2 (8b) after being up th…
Tanguy Merard, who did La moustache qui fâche (9a+) in July, has done the second ascent of Redoublement d'effort (9a) in La Roche-de-Rame. In June, the 18-year-…
Solveig Korherr has had a great trip to Céüse where she onsighted Le chirurgien du crépuscule (8b). "Wow! I'm really surprised and proud of this accomplishment.…
FAVORITES
Sebastien BOUIN, who previously has done three 9b/+, reports on Insta that he has done the FA of DNA 9c in Verdon. "I'm happy to have completed this project. Af…
Sebastien BOUIN has done the FA of the long-standing project Jumbo Love (9b) direct start, calling it Suprême Jumbo Love 9b+ at Clark Mountain. (c) Clarisse Bom…
Marcel Remy was born in 1923 and has been climbing actively during the last 90 years. He celebrated his 99th birthday by climbing in his local gym in Villeneuve…