Fabelita 8c by Geila Macia (13)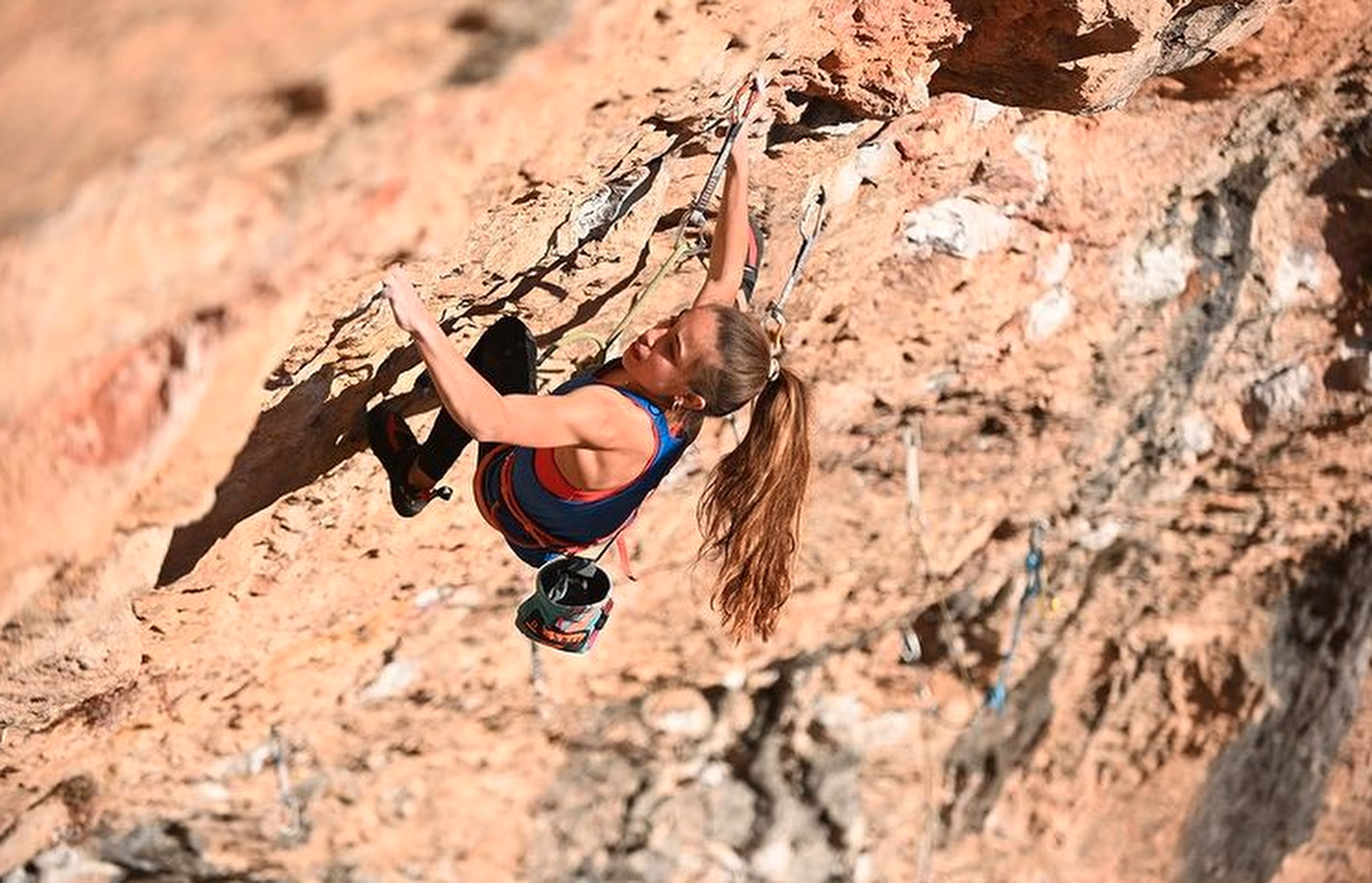 Geila Macia
has done
Fabelita (8c)
in
Santa Linya
. The 13-year-old is daughter to famous spanish climbers
Berta Martin
and Israel Gacia. Berta has won the Spanish Championship several times and eleven times made World Cup semis mainly in Boulder. Her best result was anyhow #9 in Speed. (c)
Israel Macia
How was the process taking it down?
I was very tired of the long season of competitions but I wanted to look for a high project for the next season. So I found out that I could do every single move on Fabelita quite easily and I enjoyed the climbing. After some days on my holiday, I realized that I was getting stronger and on the route, I felt more confident. Yesterday I could make all the hardest parts from the beginning and then just climb concentrated from rest to rest till the chain. It was a nice time, lot of sunny and nice days with the family and good friends.
How much and does she train?
Berta: She trains at least 4 days a week sometimes 5. I'm her trainer and she trains with 2 guys of her age aprox. Arround 3h each day. Power, power/endurance and endurance, we increase the number of sessions and selections depending on the competitions. All training usually is focoused on comp style bouldering or when it's time for lead we do more endurance climbing routes in gyms. But if she has a rock project I try to reduce trains or adjust them for it.
What are the plans and ambitions for 2022?
Berta: We expect Geila being selected for international comps as she has won all under 14 in Spain last year. If the Spanish coach take her to Europe Cup, would be the focus on trainings for sure.
MOST COMMENTED
Sebastien BOUIN, who previously has done three 9b/+, reports on Insta that he has done the FA of DNA 9c in Verdon. "I'm happy to have completed this project. Af…
EDITORIAL
5 December 2022
In a 40 min interview at the IFSC Climbing Summit, Janja Garnbret was very straightforward about BMI testing. She referred to a survey in Innsbruck where it later was stated that: 16 % of female athletes have no menstruation and 22 % reported that they currently struggle with an eating disorder. …
Illya Bakhmet-Smolenskyi has done Open your mind (8c+) in Santa Linya. The Ukrainian made his first 8a news at age eleven when he did his first three 8c's as we…
RELATED
EDITORIAL
29 November 2022
Bayes Wilder, who last year did his first 8c+, has been on a three week climbing trip around Lleida where he did 20 routes, (mainly onsight or flash), 7b and ha…
Geila Macia has done Rollito Sharma extension (8c) in Santa Linya. Last year, she won one Euro Lead Cup and was the runner-up twice. The 14-year-old is the daug…
Domen Škofic, overall Lead WC winner in 2016, has spent the last six weeks mainly climbing in Santa Linya. In the last few days he has done Gypsy Blood (8c+) an…
RELATED NEWS
EDITORIAL
29 November 2022
Bayes Wilder, who last year did his first 8c+, has been on a three week climbing trip around Lleida where he did 20 routes, (mainly onsight or flash), 7b and ha…
Geila Macia has done Rollito Sharma extension (8c) in Santa Linya. Last year, she won one Euro Lead Cup and was the runner-up twice. The 14-year-old is the daug…
Domen Škofic, overall Lead WC winner in 2016, has spent the last six weeks mainly climbing in Santa Linya. In the last few days he has done Gypsy Blood (8c+) an…
FAVORITES
Sebastien BOUIN, who previously has done three 9b/+, reports on Insta that he has done the FA of DNA 9c in Verdon. "I'm happy to have completed this project. Af…
Stefano Ghisolfi has done the FA of Excalibur (9b+) in Arco. It was bolted by Christian Dorigatti and Morris Fontanari who invited Stefano to try it two years a…
Sebastien BOUIN has done the FA of the long-standing project Jumbo Love (9b) direct start, calling it Suprême Jumbo Love 9b+ at Clark Mountain. (c) Clarisse Bom…