Escalatamasters 9a (8c+) by Anak Verhoeven, twice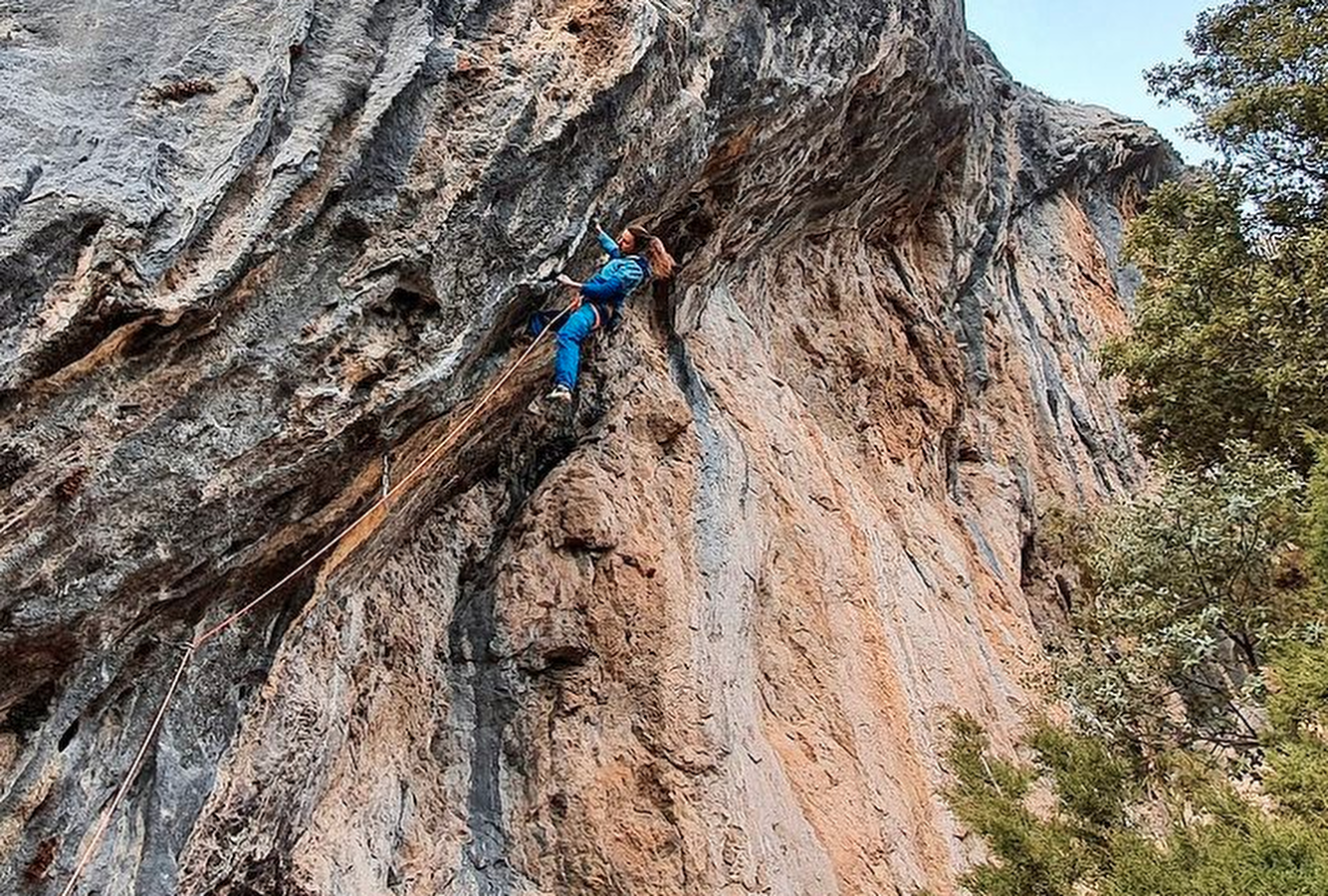 Anak Verhoeven reports on
Insta
that she has done Escalatamasters 9a (8c+) in Perles. The excellent climb was originally 9a but was later downgraded but is probably back to 9a again after a hold has broken in the upper part. In total, the former very successful competition climber has done twelve routes 8c+/9a and harder. (c)
Ramon Pajul
"
Esclatamasters is a route of about 35 meters and is made up of 2 very distinct parts: an overhanging traverse on tufas and a more vertical, technical top part. This last one is the most difficult and gives the route its 9a grade. It's an amazing line situated in a beautiful landscape. I first spent 2 pretty relaxed days working the traverse. In the third session, I worked the upper part; I went up twice and managed to do all the moves. I would have preferred to know the route a bit more into detail, but the end of the trip was drawing near and if I still wanted to have a chance of climbing it, I had to do an attempt the next climbing day. So that's what I did and I topped it in my first redpoint try! (With a bleeding ring finger – not ideal for delicate climbing and deadpoint moves on 3-finger edges, haha)."
And then you did it a second time, without knee pads?
Climbing it again without kneepads was a completely unplanned, personal challenge. Not easy because I had only had one hour of rest between the sends (it was getting cold and dark). In my opinion, there wasn't that much of a difference between climbing it with or without kneepads (for this particular route), because of the no-hands rest in the middle of the route which is also possible without pads.
FAVOURITES
Sebastien Bouin has done some 60 routes 9a and harder out of which 25 are FAs, including DNA 9c in Verdon which he did last month. Interestingly none of these F…
Steve McClure put up Rainman 9b at Malham in 2017 after projecting it for 128 days. It is considered the hardest route in Britain and now Eder Lomba has done the first repeat. It is a link-up that goes through the crux of Rainshadow 9a and then into Batman 9a before finishing up Bat Route 8c. Intere…
In the Eder Lomba video of Rainman 9b, we can see that he stays in a kneebar from 3:50 - 7:10, and short parts of it, "no hands rest". Steve McClure did the FA …
MOST COMMENTED
In the Eder Lomba video of Rainman 9b, we can see that he stays in a kneebar from 3:50 - 7:10, and short parts of it, "no hands rest". Steve McClure did the FA …
Steve McClure put up Rainman 9b at Malham in 2017 after projecting it for 128 days. It is considered the hardest route in Britain and now Eder Lomba has done the first repeat. It is a link-up that goes through the crux of Rainshadow 9a and then into Batman 9a before finishing up Bat Route 8c. Intere…
During the qualifications in the Salt Lake City Boulder World Cup last weekend, (at least) three girls injured themself on the same move. Jenya Kazbekova (#14 i…
FAVORITES
Sebastien Bouin has done some 60 routes 9a and harder out of which 25 are FAs, including DNA 9c in Verdon which he did last month. Interestingly none of these F…
Steve McClure put up Rainman 9b at Malham in 2017 after projecting it for 128 days. It is considered the hardest route in Britain and now Eder Lomba has done the first repeat. It is a link-up that goes through the crux of Rainshadow 9a and then into Batman 9a before finishing up Bat Route 8c. Intere…
In the Eder Lomba video of Rainman 9b, we can see that he stays in a kneebar from 3:50 - 7:10, and short parts of it, "no hands rest". Steve McClure did the FA …