LATEST NEWS
Anak Verhoeven reports on Instagram that she has sent Fabela pa la enmienda (9a) in Santa Linya. "This send feels like a personal victory toward the end of this climbing trip ⚔️ after several morale underminers the past month, in particular a sudden back problem [probably a ligament inflammation]. Sending this one is encouraging and I'm glad I can simply still climb." (c) Javi Pec

Can you tell us more about the ascent?
I climbed on this route on and off during my stay here in Santa Linya. At a certain point, I had to take a break due to a back problem and pain. When I felt better, I did all the moves again and then climbed it on my first redpoint try. In 2017 I had already done La Fabela and also the Enmienda part (by coming from the Ciudad de Dios start), but this was the first time I linked those two together into 'La Fabela pa la Enmienda', a classic 9a that goes all the way to the top of the cave.
Jesse Grupper, who six weeks ago secured an Olympic ticket, reports on Instagram that he has flashed Pure Imagination (8c+) in Red River Gorge (KY). The beta he got from Alex Megos and the night before they had watched a video. (c) Eric Hörst

"The sun was moving fast, there was a queue on the route, and it was now or never. I convinced myself that it would be okay if it didn't go, while reminding myself of all the reasons I was ready. Getting through the initial crux, I felt a sense of relief. I wasn't crazy for having this dream - regardless of what happened next."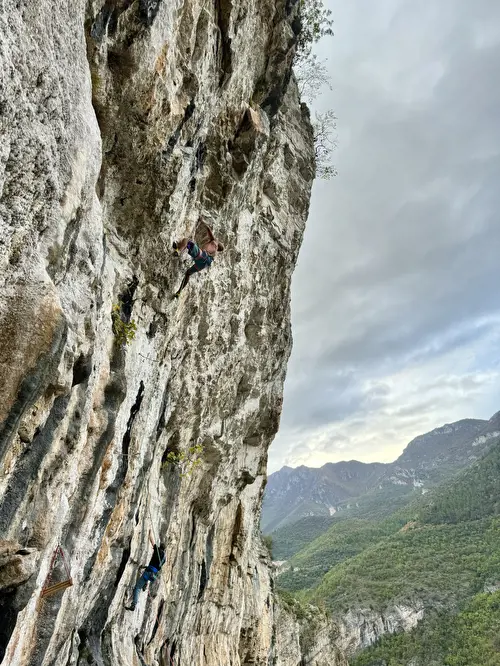 EDITORIAL
by Jens Larssen, Editor-in-Chief
Ryohei Kameyama, who has previously completed a dozen boulders 8C or 8C+, has published a video of sending Toru Nakajama's Flux (8C) in Gero City in Japan. "I could climb it on the first try after practicing the moves for two days."What is your winter plan?I'll try Burden of Dreams (9A) again next …
"I would say this route has more in common with Silence than Move, so could be called "Silence easy" [variation] too. The line starts from 'Move', and takes you through the very first crux, before turning right into Silence to do the second and third cruxes. Basically, you skip the main crux of Sile…
EDITORIAL
by Jens Larssen, Editor-in-Chief
---
---
---
---
---
---
---
---
---
---
---
---