LATEST NEWS
Jenn DeBellis has done Sunshine (8A) in Hueco Tanks (TX). "Really psyched to piece this all together! Ended up being a pretty desperate totally pumped out of my mind topout which makes it all the better. Way cooler than I expected."

Interestingly, the 27-year-old started climbing only in 2016 and then it took her two years to go outdoors and within some months she did her first 7C. "I've gotten a much later start than many of my friends and I wasn't sure how far I'd be able to take things with my training and climbing. I learned about Hueco when I was first getting stoked on bouldering and reading about its history and it's cool to be here for the first time to experience it. "Sunshine" will be a special memory for me! As you walk into East Mountain it's so easy to see how striking of a line it is. I enjoyed the climb for how much shoulder and body tension it requires to hold onto the rail feature and that you have to fight through some pump at the end."
Alizee Dufraisse has done Versace (8B) in Brione. The Frenchwoman has been one of the best female climbers in the world since 2003 when she won the Youth World Championship and was Top-9 in both a boulder as well as in a Lead World Cup. She finished her competition career in 2016 and have since done five 8B's and two 9a's. During the last winters, she has spent some 50 sessions projecting La Rambla 9a+.

How was the process taking it down?
The process was pretty long and challenging! After two years of route climbing, I was not sure if my next challenge would be route climbing in Spain or bouldering in Switzerland :) Hard to change when you know that you are in shape for routes. I had no clue what bouldering in Switzerland would be like… How long would it take me to transfer my shape in routes for bouldering? Would I succeed to find my way climbing on granite, which I never really experienced before? Could I handle the cold temps? Will the forecast will be ok in the full wintertime? Will I find some boulders that I get inspired by?

At the last moment, we (Dave and me) decided to go to Swiss. We actually both needed a change from the Spanish scene (even if we love it). As predicted I needed some time to learn how to deal with all the factors I was scared about. The weather was pretty tough when we arrived with a lot of rain/snow/cold. I needed to climb slowly on harder and harder stuff. I needed also to get more and more used to the height, being able to climb without a rope and fall properly. Versace is a boulder in Brione, next to the river. First time I went on it I loved the place and felt good on the moves. I liked the style, the type of rock and features and I could slowly (re)-learn the process of bouldering. It took me 15 days to send the boulder, every day learning something new about climbing and about dealing with my mind :) Now that I start feeling better and better in bouldering, I enjoy more and more every step of the way. I think I will keep bouldering here and maybe Magic Wood afterwards, where I have never been, trying the challenge myself more and more :)

What about the status on La Rambla?
I think a change is good for me. La Rambla has really become mental for me so I think climbing on other stuff, maybe also other routes before coming back is good!! But it's a route and a place I love so I have all the time to come back ❤️. You know I am happy to climb in general and that's the most important for me. Challenging and learning about myself. I try to be a better climber and that goes obviously with trying harder grades. But I don't do that as a competition thing… so I don t really count in this way I meant 😄


TOP IMAGES OF THE WEEK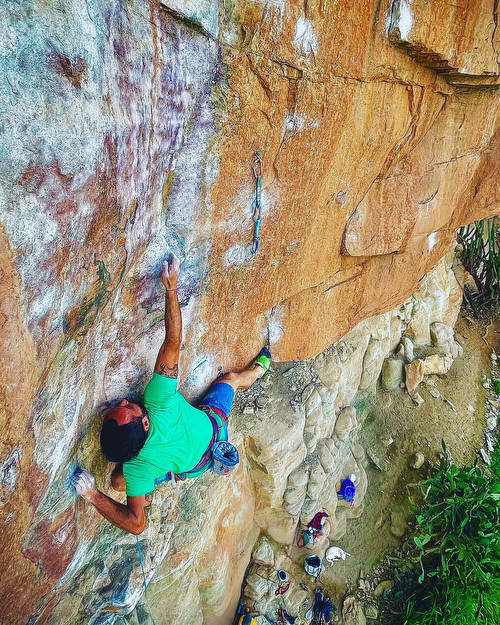 EDITORIAL
by 8a Founder and Editor-in-Chief Jens Larssen including also Analyses, Reviews, Training, Polls and Opinions etc.
---
---
---
---
---
---
---
---
---
---
---
---
---