LATEST NEWS
Patxi Usobiaga was one of the very best lead competition climbers during the 2000's. He won three silvers and a gold in the World Championships and in the World Cup, the Spaniard won the overall in 2006 and in 2007. In 2007, he also made the first 8c+ onsight in the world, Bizi Euskaraz (8c+) and he has redpointed five 9a+'.

In 2010, he suffered a traffic accident that left him with neck injuries and stopped his climbing for some years. In 2016, he bounced back and the following year he managed to climb to #4 in the 8a ranking game. Patxi has also been working as a coach and has trained many world-class climbers like, Adam Ondra. Lately, Patxi has also dived into bolting routes around his home base in Catalonia. Following the release of this video portrait we reached out to Patxi to find out more about what he's been up to.

Can you describe a normal week?
A week of my life is always a week as I have chosen it, [it's] chaotic, very far from what it was when I was exclusively a professional climber, now although I consider that I can climb like a professional climber, because of my option to be able to climb whenever I want, I need to work to be able to eat and live. The luck that I have is that I have always done what I wanted, I have decided what I want to do and what motivates me.

So if it's a week where I'm fine and I can climb, it could have different variants: In all the possible variants there are priorities and I have to combine them as best I can to get to everything and that is why there are seasons when I get up at 4 am, and others more calmly at 7 am, but always maintaining the order of priorities:
Family,
Work, (PUCtraining, PUCSeries, PUCseries Temple Nargó, YouTube, social networks, events and sponsors) and
ME (climb, train, equip etc)

But since I really like everything I do, I manage to organize myself to be able to combine everything as much as possible. Although it is difficult considering that there are 24 hours a day, nothing works if I don't climb, train and/or equipment, and for this reason, I prefer to sleep little and get to meet all my needs and obligations to be able to continue doing what I like. And luckily and by my own decision, I live in Oliana, Lleida, in Alt Urgell, where I can materialize all my concerns by climbing, equipping and training in the climbing walls that I have built for myself. The PUCTraining LAB and the PUCseries Temple NArgó.


Enrique Beltran Blasco and Dani Moreno have done Ali Hulk Extension Total (9a+) in Rodellar, both feeling it is a soft 9a. The two Spaniards now have their sights set on,9b (a+) Sit start. (c) Dani Moreno

Can you tell us more about your ascent?
Enrique: I wanted to try something hard in Rodellar and my friend Dani Moreno and I got motivated for Ali Baba. The truth is that the route has cost me little, just 6 days of work and what has cost me the most is the rope part since the bouldering part was going well. Now the idea is to try the sit version. Total respect for Andrada. His FA was absolute performance and much more difficult compared to using knee pads and resting no hands every other ten moves. I used four no-hand rests where I stayed for 1 - 5 min in each."

Enrique has logged Hulk extensión total (8c+) with an personal 8b+ grade. With most recent ascents in the cave utilizing knee pads, it's likely that many of the cave's climbs could be subject to downgrades when climbed in this style.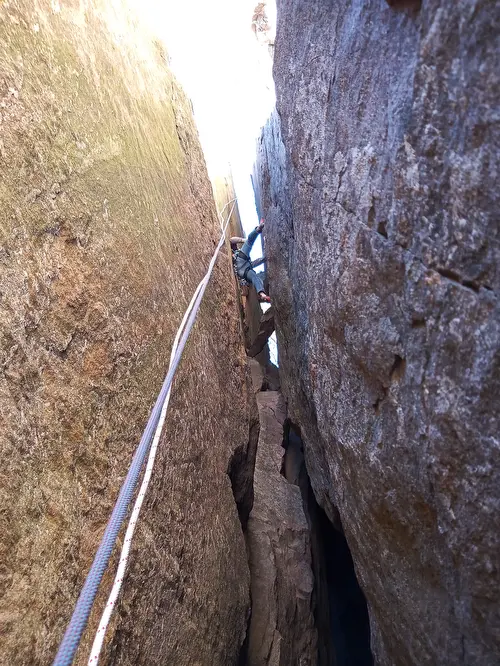 EDITORIAL
by Jens Larssen, Editor-in-Chief
EDITORIAL
by Jens Larssen, Editor-in-Chief
---
---
---
---
---
---
---
---
---
---
---
---