LATEST NEWS
Chris Sharma strikes again by doing the FA of Sleeping Lion 9b+ in Siurana, after projecting it for one and a half years years at age 41. The route is located on the expansive wall opposite of La Rambla and La Reina Mora. It's a solitary line with no other route within 20 meters of either side of it. Here is an Insta video that captures Sharma linking most of the route last October. (c) Rikki Giancola

Giancola, who has been filming the whole process and was on-hand during the FA says, "The energy, perseverance and good vibes of this climber make him unique and inspiring. Doing my bit by sharing Chris Sharma's vision and passion for climbing with the world is simply an honour..."
Nils Favre, who will compete in the Asia Boulder WCs in three weeks, reports on Insta that he has repeated Toni Lamprecht's Bokassa's Fridge 8C in Kochel. (c) Johanna Mielke

Can you tell us more about Bokassa and the climbing at Kochel?
Kochel is the closest place from Munich for bouldering/lead. The bouldering area is basically the base of the cliff, with a "slippery" rock. But, all strong climbers from Munich spent time there and there are a lot of hard routes/boulders. This boulder is one of the most logical lines of the area. It follows a prow and ends at an obvious crack/jug when it starts to be too high for bouldering.

It's an eliminante because you are not allowed to use the left wall but quite logical as you follow the arete. (With the left wall it's Antonator, 8B) Toni started the boulder at a defined position quite low. I climbed the boulder as it was first ascended, it's already 18 hand moves and graded 8C/V15. Flo Wientjes did the first ascent of the sit last year. It adds 5 "easy but really tiring" moves for a total of 23 hand moves. I had 3 good tries on the sit start after sending the normal start but...

How does climbing on rock help you prepare for the upcoming Asia WCs?
Climbing outdoors has been a priority for me next to my training. I find myself way more motivated this way. I also realize that I'm trying/training way harder on the rock than plastic. I can also skip most of my finger training when I climb on the rock as I train them while climbing. Finally, I find myself extremely motivated for all the coordination moves when I don't do them too often, and get maybe a bit "bored" when I do too many of them. But it would be wrong to say that I'm only climbing outdoors. I train a lot besides outdoor climbing but I would definitely spend even more time on the rock without competitions.

The beginning of the season was a bit stressful as Switzerland got only two spots for the World Cup. Sasha already got a spot because of the Olympic team so only one spot was available. I managed to win the selection comps to get my spots for the two first world cups.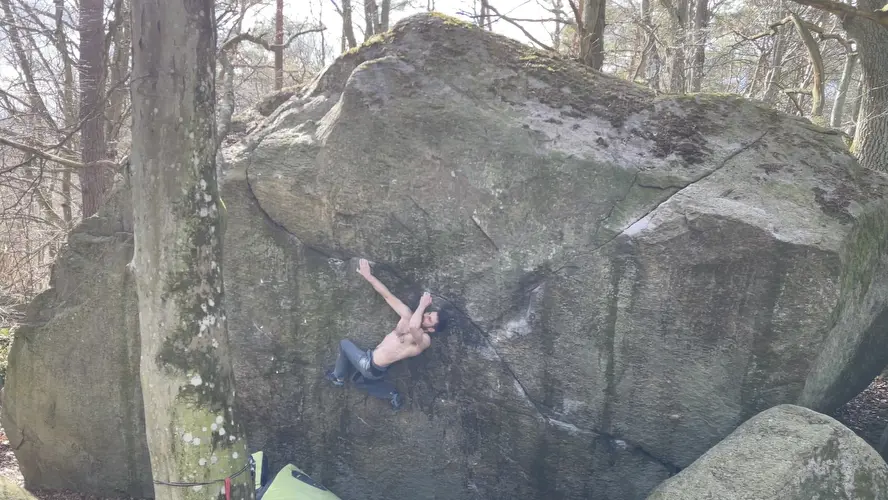 EDITORIAL
by Jens Larssen, Editor-in-Chief
On Wednesday, the IFSC board decided to postpone the decision, on whether Russians will be allowed to compete in IFSC events, until June. This was announced at the IFSC general assembly in Singapore today. In practice, this means that the only path for the Russians to qualify for the Paris 2024 Olym…
Jorge Diaz Rullo has onsighted Rollito Sharma (8b+) in Santa Linya. The extension to this route is 8c and he fell on the last move. On Insta he reports that the…
EDITORIAL
by Jens Larssen, Editor-in-Chief
---
---
---
---
---
---
---
---
---
---
---
---