LATEST NEWS
The Gallery relaunch has made finding and sharing climbing inspiration easier. Plus, the quality images submitted ensure that the crag database charges forward and remains a useful tool for every member to use. Sharing your greatest climbing moments now puts you in the prize raffle. All you have to do to enter is upload your photos to the gallery and tag the crag. The more "Venga"s your photo gets, the higher your chances of winning, as each "Venga" earns you an additional ticket in the raffle draw at the end of the month. To kick things off, all participants this month will score one month of Vertical-Life Premium, and one lucky climber will receive a one year subscription to Vertical-Life Premium with friends. The winner and four friends will have access to all 5000 crag topos available in the Vertical-Life app. Tap the "Learn more" button below, in the Gallery, for more info. Best of luck!
Nicolai Užnik has made a rare repeat of Klem Loskot's Emotional Landscapes (8C) in Maltatal. Last year, the Austrian won the European Championship and in the World Games, he was #4. (c) Stefan Köchel

"Most challenging boulder I ever did, so psyched!!! 8C+ in my opinion, especially since the starting foothold broke a while ago and made the first move even harder."

Can you tell us more about the ascent and your journey?
I first tried it, I think in 2019 and felt absolutely chanceless until last year when I could finally do the first move once. A few days ago I got really close falling at the dyno to the lip and was unable to put it all together. Today after slipping off matching the lip, I finally did it two attempts later. For sure the hardest and most challenging boulder I did so far. I think it was last climbed in 2017 and since the starting foothold broke off not too long ago and made the first move even harder, I think it deserves the 8C+ grade.

What is your competition season preparation looking like?
This weekend we have the Austrian Championships at my hometown in Klagenfurt which is a good test for the upcoming World Cup season. I'm feeling in good shape and can't wait for the comp season to start!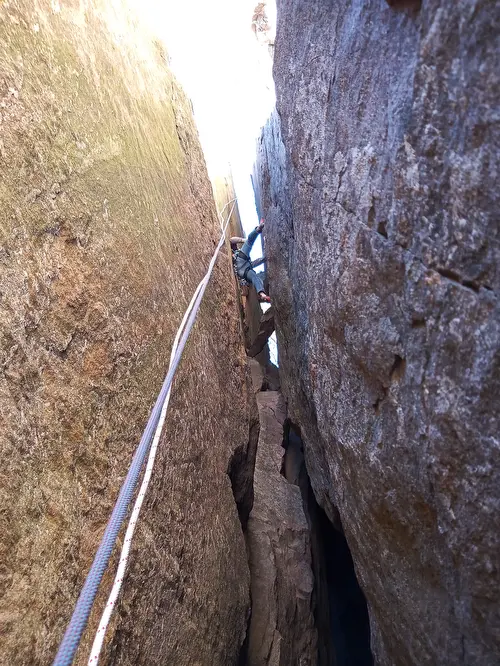 EDITORIAL
by Jens Larssen, Editor-in-Chief
EDITORIAL
by Jens Larssen, Editor-in-Chief
---
---
---
---
---
---
---
---
---
---
---
---