LATEST NEWS
Théo Blass has done Trip tik tonik (9a) in Gorges du Loup, after trying it for some ten odd sessions. The 12-year and 9-months-old climber has now taken "the youngest in the world to reach 9a title", from Gianluca Vighetti, who was two months older. (c) Alizée Blass (9) who, on the same day, did her first 8a.

Fanatic Climbing has made an interview with his father Vladimir Arnaoudov about the ascent. When Théo was 10 years old he did his first 8c his father explained his son's climbing background to 8a.

"Theo started climbing more regularly when he was 8 (he was climbing before, but quite irregularly). His progression was quite interesting: it took him a few months of projecting to send his first 6b+ (on top rope) and then he progressed from 6b+ to 8b in less than a year and a half. His training is a bit chaotic and highly dependent on motivation, time of the year and availability of other more fun activities (such as mountain biking, skiing or building a shack in the garden). At the beginning of the lockdown he trained a lot at our small home bouldering wall but then he lost motivation and did not train for a month.

From the dad's perspective, there are two key takeaways from the experience of belaying, watching, encouraging, counseling, supporting and occasionally arguing with Theo about beta: (1) adult grades are a bit of a nonsense when it comes to kids - two of the hardest moves on the route for Theo are among the easiest for adults - so not worth getting too excited about grades (especially when you are under 1m40); (2) even if fear, frustration and failure are part of the game, climbing kids of the world, enjoy every moment of climbing, projecting, trying hard, sending and try to have fun, and confidence - the future belongs to you."
Tanguy Merard, who did La moustache qui fâche (9a+) in July, has done the second ascent of Redoublement d'effort (9a) in La Roche-de-Rame. In June, the 18-year-old was #3 in a Euro Youth Cup.

"I heard about this route when my friend Diego Fourbet did the FA a few years ago. Then I lived two years in Briançon to climb with a great team and suddenly I was able to try it. In my first year there (2020) I was able to do La proue debridée (8c+) which is the start of Redoublement d'effort (9a). At the end of the year I started to try and put 3/4 sessions into it with.

This spring I did not try because I did a lot of competitions. I went back on it when I worked as a server in Ailefroide this summer. In my first session on it, I had trouble and I arrived pumped at the crux. From the second session, I fell at the last movement. Then I did a little Moonboard at Mélissa's (Le Nevé) in La Roche, rested a bit and it went down on the 3rd session.

Now I am concentrating on Biographie (9a+). Last week I passed the crux for the 2nd time and I fell one move before the final jug. I am so happy to finally have made this progress on that route. Just have to be patient and love it 😁"
EDITORIAL
by 8a Founder and Editor-in-Chief Jens Larssen including also Analyses, Reviews, Training, Polls and Opinions etc.
---
TOP IMAGES OF THE WEEK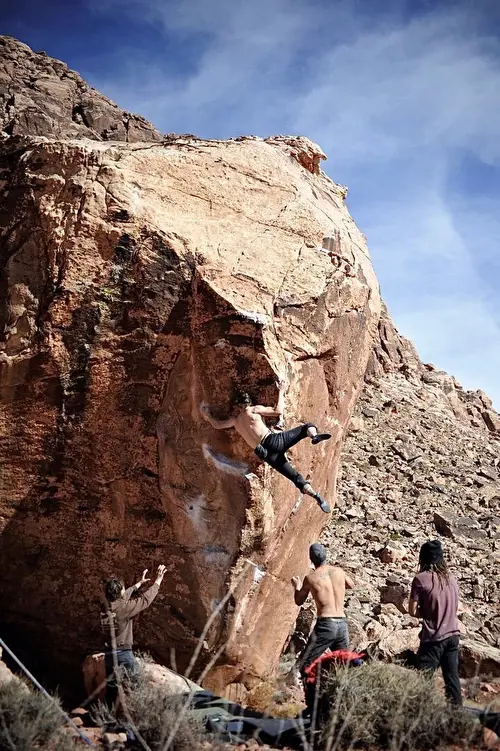 EDITORIAL
by 8a Founder and Editor-in-Chief Jens Larssen including also Analyses, Reviews, Training, Polls and Opinions etc.
---
---
---
---
---
---
---
---
---
---
---
---
---