LATEST NEWS
Bayes Wilder (10), who did his first 8c+ route two months ago, has during a two weeks trip to Hueco Tanks done ten boulders 7C and harder, including two 8A+, Barefoot on Sacred Ground and Rumble in the Jungle. The latter the 10-year-old actually did in just one day. We asked his father Matt, who back in the days made 8a news by doing a 9a, if he could share their story.

How did Bayes prepare for the trip?
Since our RRG trip in early Nov., Bayes has just been doing his 3 * 2-hour practices per week at Team ABC. Those have been all bouldering practices.

How are the climbs selected and how does he normally project them?
I'm very familiar with Hueco and many other areas from my years of climbing so I often will select potential climbs that I think might fit him well. He'll look through the guidebooks and pick stuff out as well. Things like Barefoot on Sacred Ground were goals he had from watching videos of Ashima in Hueco. Rumble in the Jungle wasn't even on our list, but he wanted to finish up a cool V6 nearby and so we decided to look at it and he got psyched.

When he's working on a problem, I'll often support him. Generally, it's a long process because he has to figure out the unique beta for his size. It's like in the old days when you couldn't watch videos of other people doing a problem before going out and you just had to figure the moves out yourself. He's pretty creative and knows his climbing style really well and so often comes up with a sequence himself. I'm pretty analytical too and so I'll often throw out different ideas if he's stuck somewhere. Sometimes I'll give him coaching on how to approach the problem and what parts to try, etc., but usually, I just let him do his thing. He has definitely gotten pretty good at figuring out the beta. What about your impact versus his own driving force?
Bayes has a love for climbing and he is super psyched on most problems. He is not overly goal-oriented so he doesn't usually have a long list of problems he has to do. He just likes to go out and challenge himself. He did have the goal of climbing V12 on this trip and was working Right Martini V12 a bunch. That problem didn't pan out for him, but a couple of the other ones did. I don't have strong goals for him either and just try to help him find problems that are classic and challenging so that he can direct his psych and love for the sport.
TOP IMAGES OF THE WEEK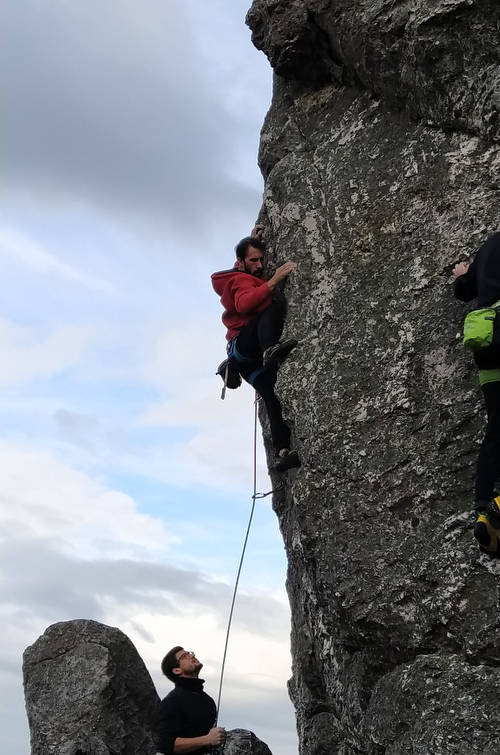 EDITORIAL
by 8a Founder and Editor-in-Chief Jens Larssen including also Analyses, Reviews, Training, Polls and Opinions etc.
---
---
---
---
---
---
---
---
---
---
---
---
---