LATEST NEWS
William Bosi has been live-streaming three, out of five, sessions on Nalle Hukkataival's Burden of Dreams, 9A in Finland. He's making solid progress and he's also found some new beta. Toru Nakajima is also in Finland trying BoD for the fourth time and says, on Insta. "Honestly, I was somehow shocked at how strong Will is."Will recently decided to extended his trip and continues his battle. In this 8a ranking game, the 24-year-old is #1 with the highest score ever achieved in Boulder. (c) Band of Birds

How and how much time have you put into preparing yourself for, Burden of Dreams?
Overall I worked ten sessions on the replica before coming out. Currently, I am five sessions in on the boulder but the sessions are limited due to skin management as the granite is pretty brutal on my fingers! I can train on the boulder with tape but I think I will need all the skin I can get for the send!

What have you learned from climbing with Adam Ondra?
I think the overall takeaway from training and climbing with Adam is just sheer joy for all kinds of climbing. He is a master at so many different styles and despite all that he has achieved, his fire and love for training and climbing are as bright as ever. It is utterly inspiring.

What are your plans for 2023 and what would be your "burden of dream" ascents beyond this one?
[Yes,] Obviously right now my focus is on climbing Burden of Dreams in Finland but I am hoping to travel to the USA later in the year to explore some lines out there!

Could the comp scene and format change in any way that would make you, and perhaps even others more psyched to take part?
That is difficult to say as there is such a range of opinions on the comp scene at the moment. Fundamentally, as the profile of the sport rises, so does the pressure on athletes to succeed. I would most welcome focussed improvements on athlete wellbeing at all levels from grassroots through to senior level. Competitions should be a memorable and positive part of any athlete's career as opposed to something which could at worst make them fall out of love with the sport or cause lasting physical and mental harm.

Filmmaker, Matt Bird is in Finland with Bosi and adds, "So if you break down the 5 moves, he has done all the moves on the boulder so he is now on links. I saw him do the link from the end of the foot-walk to the top so just first move and foot-walk to tack on. All perfectly possible...and yet.... Honestly, from filming it, it is going to be a roll of the dice for whoever gets up it. (8a: Also Shawn Raboutou and Stefano Ghisolfi will be trying it this week). Everything from weather to skin, to shoe condition, to mentality comes into play and that is on top of immaculate technique and requisite strength. It's the perfect encapsulation of bouldering at the highest level for me. Impossible for people outside climbing to fully comprehend the madness of it all but utterly compelling for those invested in bouldering at the upper limits. He could do it this week or in three years time 😂 such is the nature of the game."
Aidan Roberts, who in October, made a relatively quick repeat of Alphane (9A) has done the FA of Unison, (8C) in Brione. Insta video. Yesterday, photographer Vladek Zumr dropped the news that Aidan, also pulled off a flash FA of X,Y and Z, 8A+. "The other guys, (Giuliano Cameroni, James Pearson and Nathan Phillips) tried a few times before him, so he saw the lower moves, and then he just crushed it (about an hour after his FA Unison). He's just on another level and a really humble guy."

Niccolo Ceria added a post that sheds more light on the aesthetic and committing, X,Y and Z. It was envisioned by first Bernd Zangerl who tried it and showed it to Ceria. Four years ago, Ceria re-cleaned and tried it a bit, and with the support of Aiden and a formidable group stoking the fire, Ceria made the fourth repeat . " The climb style also deserves to be mentioned: a simple and basic crimpy sequence leads you to a very high foot placement where you have to shift your body weight to the left, go as low as you can with your hips and bring the right foot on a faint rail to finally cross your hand on the last edge. It took me a while to figure this beta out when I came back for some proper attempts."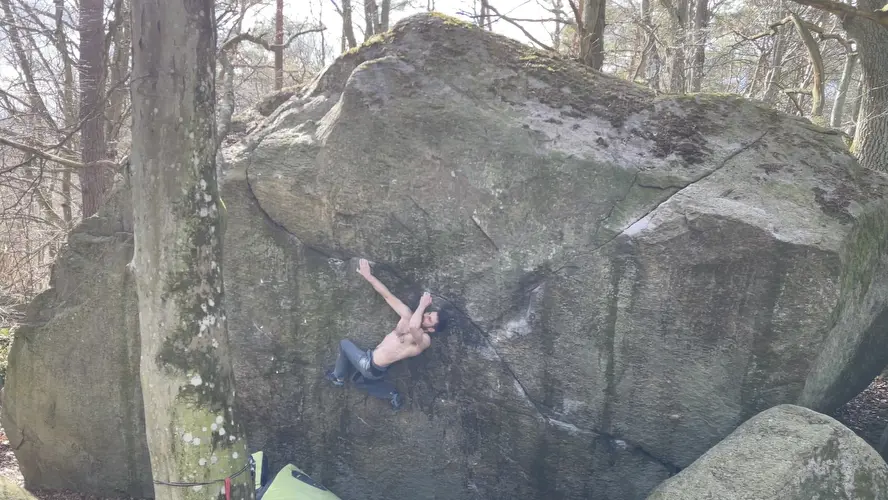 EDITORIAL
by Jens Larssen, Editor-in-Chief
On Wednesday, the IFSC board decided to postpone the decision, on whether Russians will be allowed to compete in IFSC events, until June. This was announced at the IFSC general assembly in Singapore today. In practice, this means that the only path for the Russians to qualify for the Paris 2024 Olym…
Jorge Diaz Rullo has onsighted Rollito Sharma (8b+) in Santa Linya. The extension to this route is 8c and he fell on the last move. On Insta he reports that the…
EDITORIAL
by Jens Larssen, Editor-in-Chief
---
---
---
---
---
---
---
---
---
---
---
---